Titanfall 2 Wiki
Welcome to the Official Titanfall 2 Wiki
the Titanfall 2 compendium by the players, for the players.
We are currently maintaining 2,657 pages (772 articles).
Please feel free to contribute by creating new articles or expanding existing ones.
---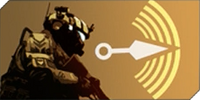 The Pulse Blade is a Pilot Tactical in Titanfall 2. The blade is a modified throwing knife, designed to send out sonar pulses when embedded in objects. These pulses then identify enemies through any surface. When thrown at an enemy, the knife can deal massive damage, potentially one-shotting a target if placed correctly.
---
Titanfall is a series of critically-acclaimed games from Respawn Entertainment. Principally a shooter, the Titanfall series incorporates mobile mechs, each with their own unique loadouts and play styles, punctuated by Pilots who boast their own unique weapons and abilities. The first title, Titanfall 1, is receiving a sequel called Titanfall 2.