Titanfall 2 Wiki/Top section
Welcome to the Official Titanfall 2 Wiki
the Titanfall 2 compendium by the players, for the players.
We are currently maintaining 2,588 pages (771 articles).
Please feel free to contribute by creating new articles or expanding existing ones.
---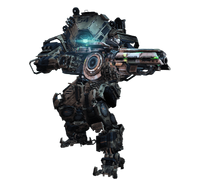 Ion is one of nine new Titans in Titanfall 2. Laser-focused, the Ion is all about power. With a central energy system that fuels all of its offensive and defensive abilities, the Ion is an effective, tactical force on The Frontier. Titanfall 2 producer Drew McCoy stated in an interview with Rolling Stone: "Ion is all about lasers, precision and resource management. So she's a completely different style of gameplay." Ion wears a shoulder-mounted laser, drops laser-triggered mines and can fire an oversized laser from the center of her chest."