Pilot Kits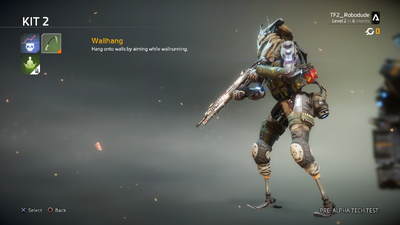 Kits are your Pilots modifiers to the standard loadout in Titanfall 2.
Loadouts can contain one kit from each list.
Icon
Name
Details
Power Cell

Reduces tactical cooldown by [?]%.

Fast Regen

Causes health regen to begin [?] seconds earlier when not taking damage.

Ordnance Expert

Reduces ordnance cooldown by [?]%.
Displays the projected trajectory of your grenade when holding the button.

Phase Embark

Replaces entering/exiting titan animation with a shorter phasing animation, saving [?] seconds.
Icon
Name
Details
Kill Report

Marks recent enemy deaths on your HUD and minimap.

Wallhang

ADS while wallrunning to hang onto the wall.

Hover

ADS while midair to hover in place.

Low Profile

Removes jump jet trails.
Delays alert for titans you're rodeoing by [?] seconds.

Titan Hunter

Killing a titan grants 10% to your titan meter.
Pilot Loadouts in Titanfall 2
Primary Weapons
Secondary Weapons
Pilot Kits