Amped R-101C
Amped R-101C
---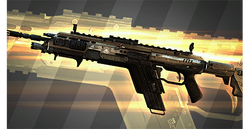 Replace Primary Weapon with a more lethal R-101C Carbine.
"They'll call us terrorist or worse, but we can't win playing by their rules." - MacAllan
Amped R-101C is a Burn Card in Titanfall. This card replaces your Primary Weapon with a far more lethal variant of the R-101C Carbine, equipped with much more damaging munitions.