Amped Kraber
Amped Kraber
---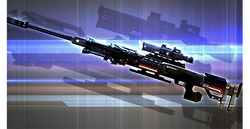 Replace Primary Weapon with a Kraber-AP Sniper that fires explosive rounds.
"Does everything need to explode?" - Sarah
Amped Kraber is a Burn Card in Titanfall. This card replaces your Primary Weapon with a heavily upgraded Kraber-AP variant equipped with explosive rounds. This weapon does increased damage to Titans (800).